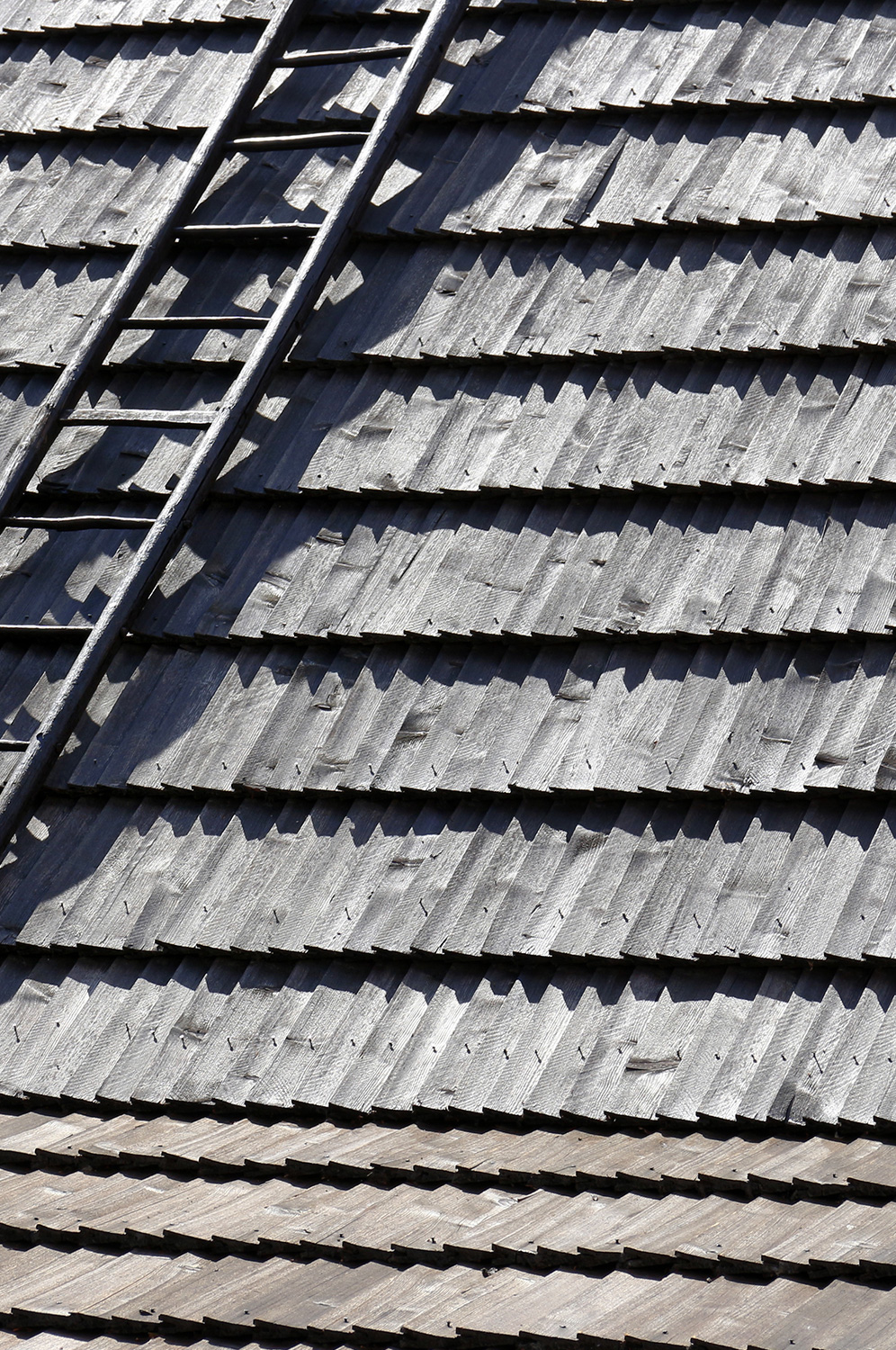 There is evidence of shingle-making in Slovakia dating from as early as the 16th century, when the export of shingles outside our lands is mentioned. Since the wood was split along its annual rings, shingles were very long-lasting, and for many years this characteristic roofing material decorated the Slovak landscape. Henrieta Tholt created a similar relief and dynamic structure in her textiles, using it to cover with subtlety parts of her clothing and accessories.
head ornamentation – bonnet
material: tulle, plastic / technique: sewing, perforation
waistcoat
material: silk, cotton, satin ribbons / technique: sewing, folding
structured trousers
material: silk, cotton, satin ribbons / technique: sewing, folding
She graduated from the Studio of Textile Design at the Academy of Fine Arts and Design in Bratislava. In her work, she often finds inspiration in traditional art culture, namely embroidery, decorative motifs and refers to elements of rural architecture or the mountain environment. However, she works experimentally with textile, overstepping the traditional borders of craft and its utilitarian function and heading towards artistic expression.
Her collection "Rural monochrome" pays homage to period folk architecture. Before beginning her work, she researched old rural architecture, the materials used and their properties, shapes, colours and above all structure. From the artist's subjective point of view, this structure can be most strikingly seen on traditional houses with a gable roof. The wooden shingles changed under the influence of the weather, which often led to individual shingles sliding down. This created a unique structural element, which the artist records and transfers to contemporary textile materials. The collection consists of three items of clothing, and can be combined with the artist's previous series of bonnets "Status" or jewellery "Iná/tradičná". The monochromatic colour scale helps the properties of the chosen material stand out. Henrieta Tholt works with hand-pleated textiles, which she layers rhythmically and combines with the background material.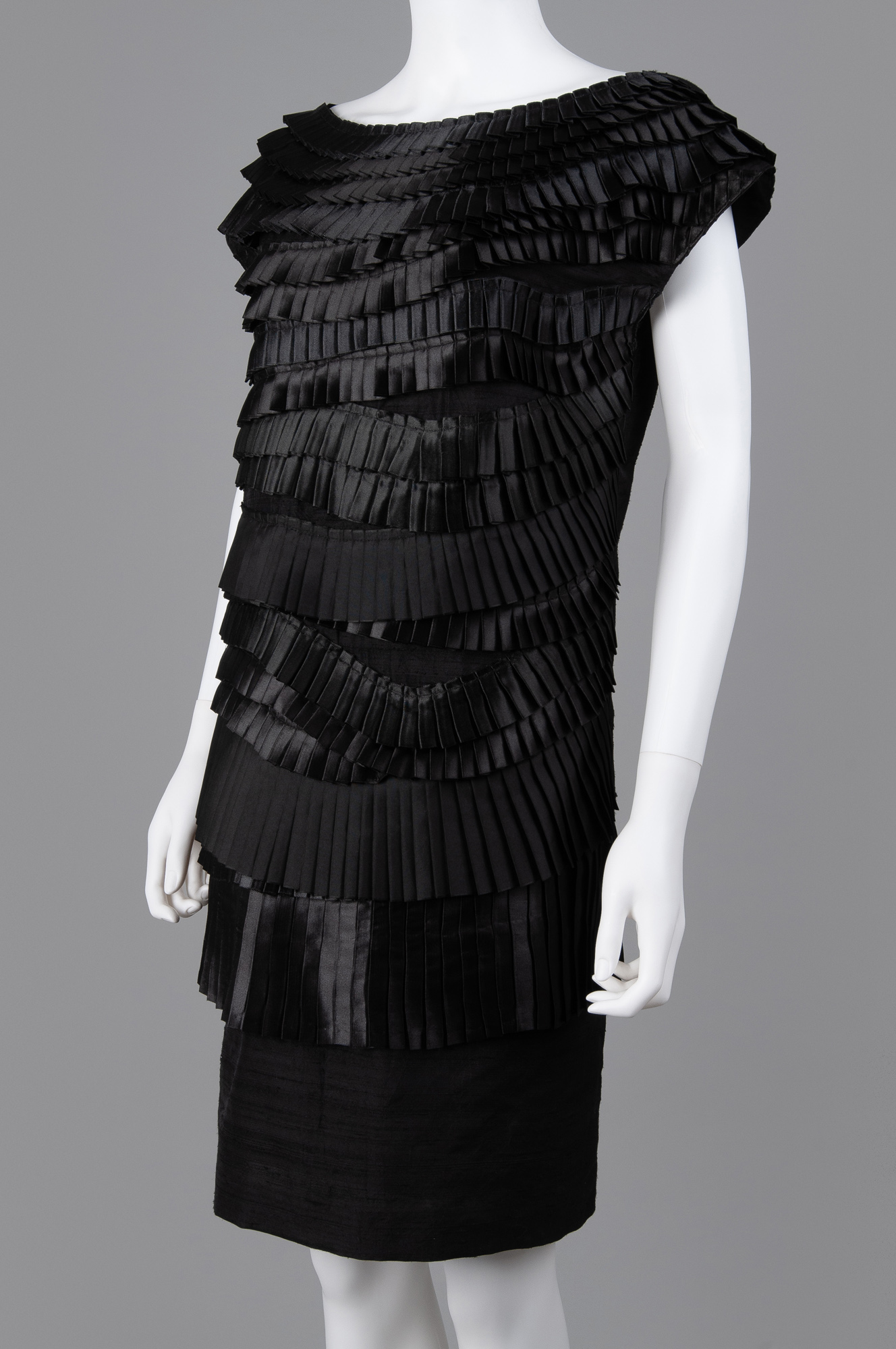 structured dress
material: silk, satin ribbons / technique: sewing, folding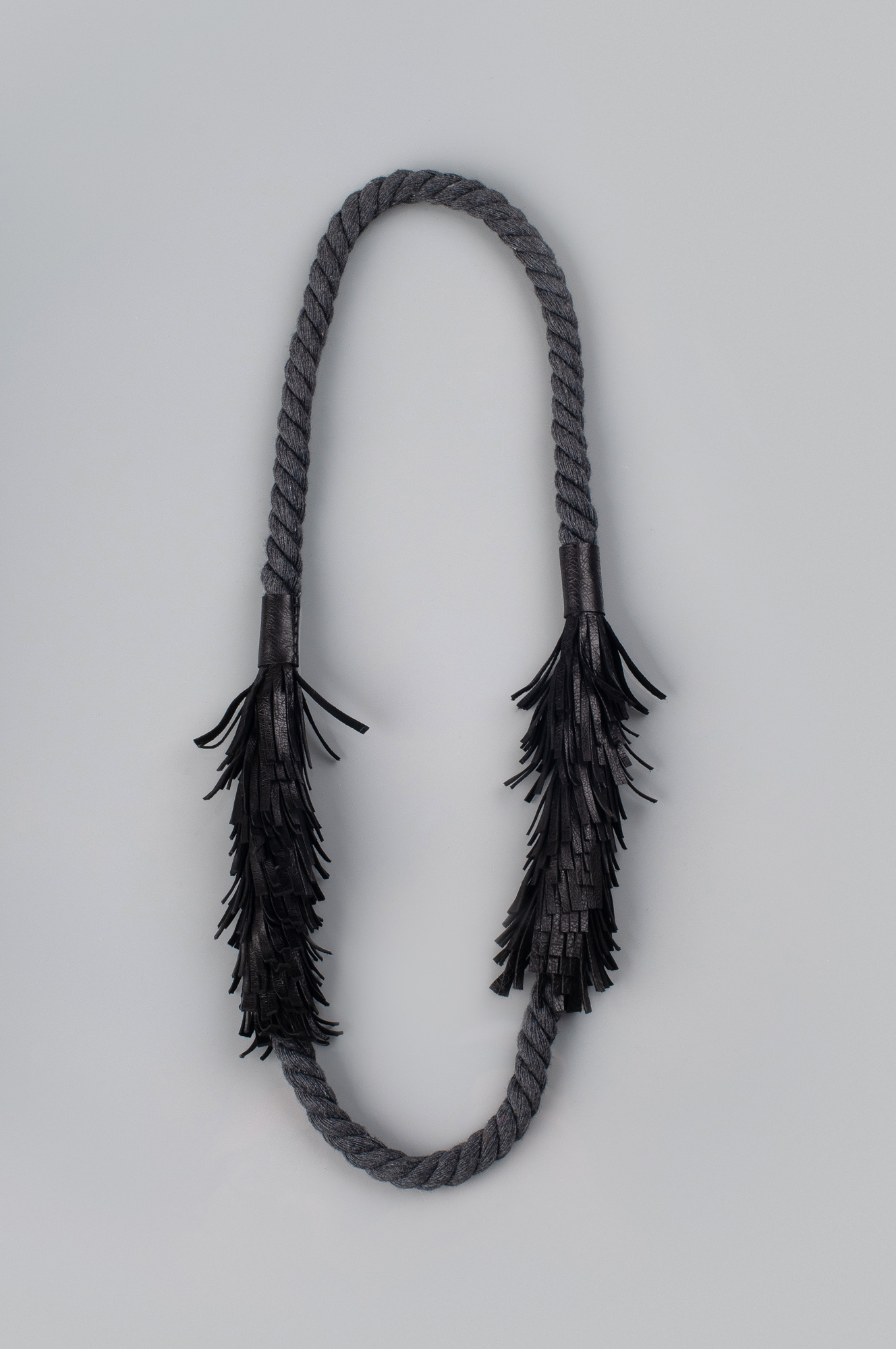 accessory designed for ÚĽUV
necklace with tassels I.
material: leather, cotton/ technique: sewing, cutting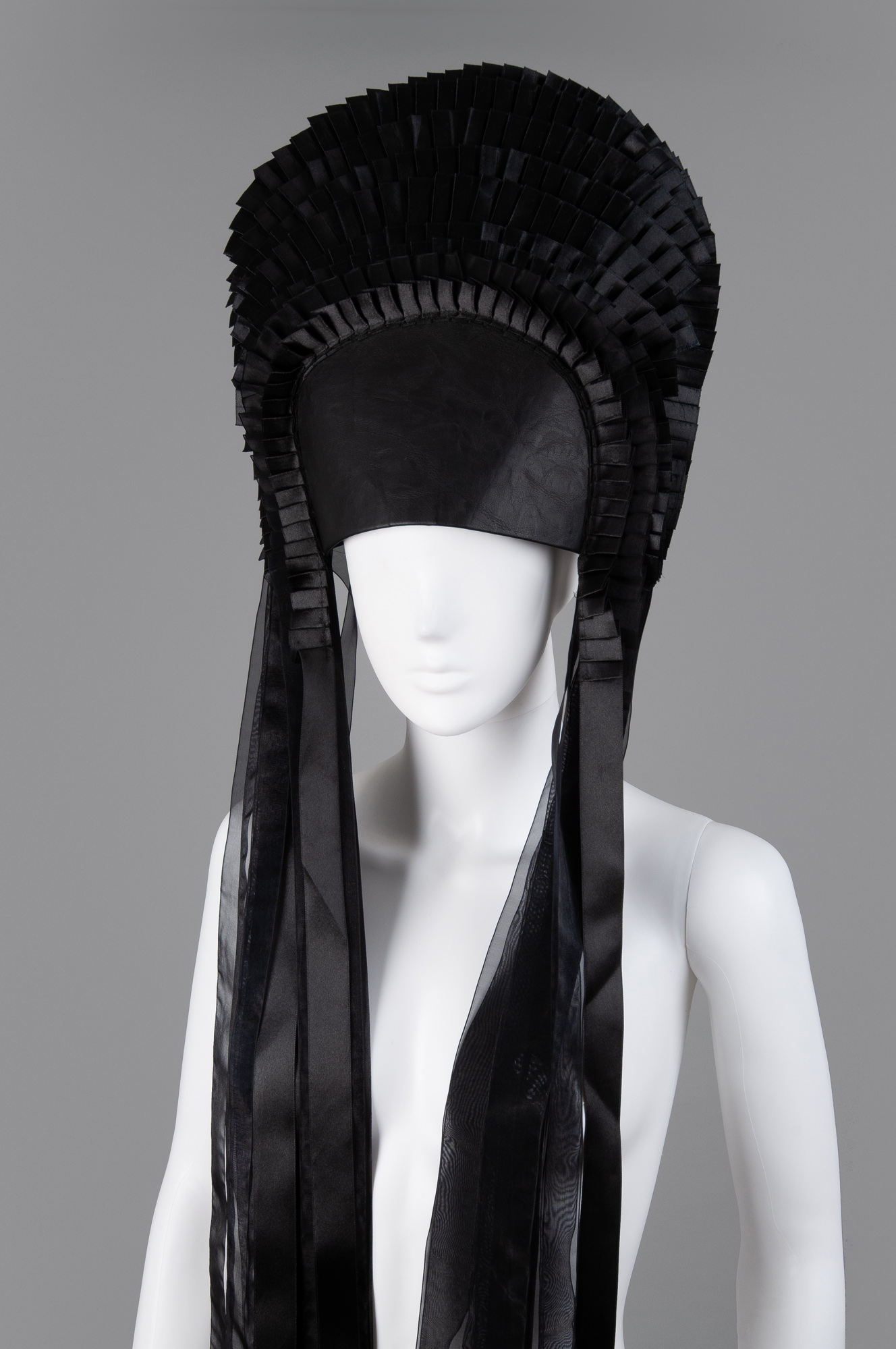 head ornamentation – headdress with ribbons
material: synthetic leather, satin ribbons / technique: sewing, gluing, folding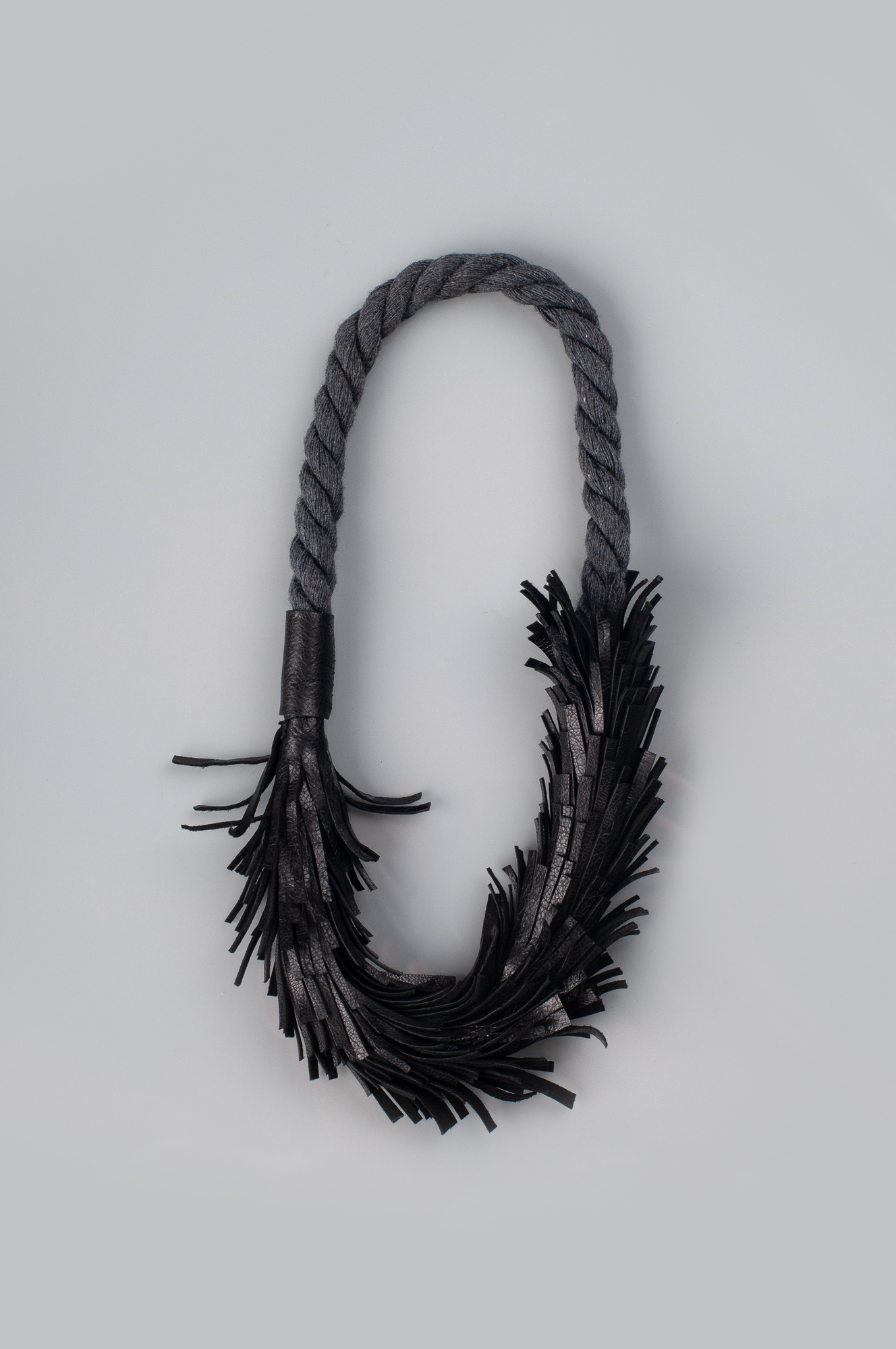 accessory designed for ÚĽUV
necklace with tassels II.
material: leather, cotton/ technique: sewing, cutting