Indigo print is a traditional technique for dyeing textiles. The basic dye is indigo stain mixed into a power, or a ready-bought indigo mix dissolved in water to which other ingredients are added. Indigo printers used their own experience and procedures, which were kept strictly secret. Mišena Juhász "dusts off" this ancient technique and finds a place for this rich blue colour in her designs.
patterned dress with a train
material: 100 % cotton / technique: indigo print, sewing
She graduated from the Studio of Clothing Design at the Academy of Fine Arts and Design in Bratislava. She designs and produces clothing and accessories mainly made out of indigo print fabric. In her work, she tries to find the beauty in traditional fine art culture. She prints the patterns that inspire her by hand on a cotton fabric, which she finishes off with a complementary solid white linen material. She also creates her own original fabrics, and her experimentation pushes back the boundaries of the traditional indigo print technique of dyeing fabrics in indigo. This is also the case of her collection "Inšpirácie"[Inspirations]. The motifs on the indigo print clothing (hearts, birds etc.) are inspired by Pavol Dobšinský's Slovak fairy-tales and are supposed to symbolise the happy ending hidden in every fairy-tale. The atypical forms used to tie the clothing and its cuts transform the clothing into an unusual whole.
patterned shirt
material: 100 % cotton / technique: indigo print, sewing
trousers
material: 100 % linen / technique: sewing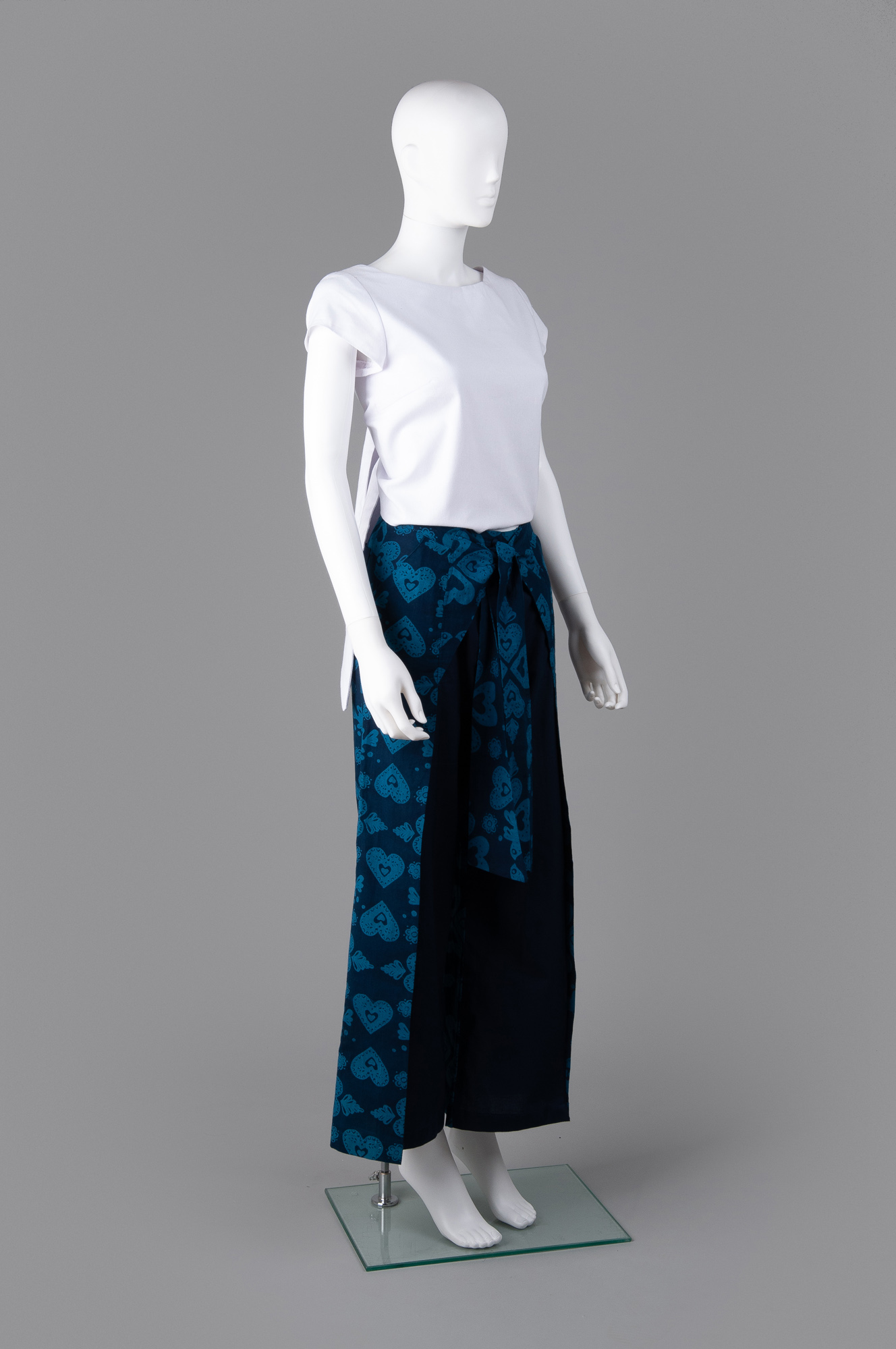 tie top
material: 100 % linen / technique: sewing
trousers
material: 100 % cotton / technique: indigo print, sewing
clothing designed for ÚĽUV
long waistcoat with pockets
material: main part – mix of wool, artificial silk and PES; other parts – 100 % cotton / technique: indigo print, sewing
accessory designed for ÚĽUV
hair ornament
material: 100 % cotton, elastic / technique: indigo print, sewing